Movie anniversary Press Release October 24
Hello Everybody,
My name is Don Clare and I am Lucy Lou's town president. I want to announce this new feature on our Rabbit Hash Historical Society Web Page which I am calling "Did You Know?".
I plan to update this feature on a regular basis with interesting tidbits about the town of Rabbit Hash's past, present and future with whatever interesting stories, history, facts and myths, pictures and whatever else pops up and seems fun to share.
Today, I am featuring our press release (just click on it, above) about our December 13th, 2014 major fundraising event, the 10th anniversary celebration of the Rabbit Hash movie, Center of the Universe. This will take place at The Madison Theater in Covington, Kentucky. Tickets are $10 each and are already available on The Madison's Web site. This is going to be a huge party scene and get-together featuring some of our favorite musicians and the showing of the brand new re-digitized and re-colored version of the movie, in the now current state-of-the-art motion picture technology! Cash bar will be available and plenty of treats and surprises throughout this night of fun and levity. Please join us!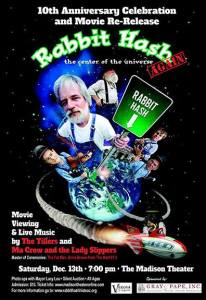 Did You Know that in the 1950s and 1960s, Sheeney Craig showed motion pictures on the lot next to the General Store for all the locals, kind of like an outside drive-in. He used a giant white sheet for the screen. It was a big gathering event for the whole neighborhood!
The Rabbit Hash Historical Society is committed to preserving, maintaining, and keeping alive this rare and treasured National Register District Ohio River town for generations to come. But we need your help to accomplish this mission. Even if you are unable to be an individual or corporate sponsor for this first annual major fundraiser, please consider sending an extra $10 or $20 donation for the cause. You love to visit Rabbit Hash, and we love to have you. Help us to keep this gem sparkling!
Stay tuned for more Did You Know!
Warmly,
Don