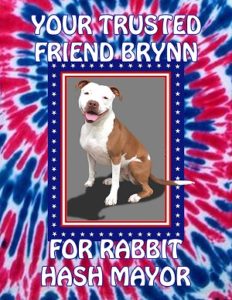 THE RESULTS ARE IN!!!
BRYNN was elected as mayor of Rabbit Hash Kentuckyin 2016,  In an unprecedented move, the Rabbit Hash Historical Society gave official positions to the 1st and 2nd runner ups, Bourbon and Lady, as Ambassadors to Rabbit Hash. In the case that the official mayor is unavailable for an event or obligation, the Ambassadors will fill in.
Here was the official tally:
Brynn: 3367
Bourbon: 2336
Lady: 1621
Higgins: 495
Stella: 400
Walter: 397
Bossy: 216
Louis: 76
Izacc: 53
Mayor Lucy Lou said that she has has been honored to serve for the past 8 years. Through the course of a tense evening of voting she sniffed the butts of all the candidates and has given her approval to the Mayor elect, Brynn. She looks forward to working with the new mayor and the Ambassadors as Rabbit Hash strives to restore the General Store.
She sincerely thanks ALL the candidates for their efforts to raise funds for Rabbit Hash.
Here is Mayor Brynneth Pawltro's Bio:
Brynneth Pawltro- Bamforth mostly commonly known as Brynn, is the most recently elected mayor of Rabbit Hash, Kentucky. She was adopted from a small rescue group in 2013, and has been her dog-mom's best friend ever since. Brynn is now almost three years old and is the first american pit bull terrier to be mayor of her beloved town. In Brynn's down time she enjoys patrolling the town and licking most everyone she comes across. Brynn also enjoys hiking with her human in Red River Gorge, Kentucky. If you have ever thought about bringing the mayor a treat, try a tennis ball. Other than spending time in the Center of the Universe and hiking in the Gorge, Brynn usually stay close to her human. She is a bitch, following in the foot steps of the previous mayor Lucy Lou, and is a proud of it. She hopes to bring the yocals of Rabbit Hash and beyond plenty of peace and love during her time as mayor.