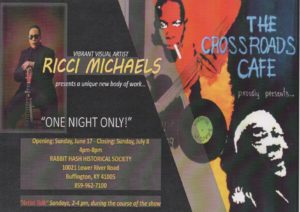 The Rabbit Hash Historical Society, in conjunction with Ten Talents Network is proud to announce  "One Night Only", a one-woman art show featuring award winning Cincinnati artist Ricci Michaels. The show will open on Father's Day, Sunday June 17th from 4-8 pm in the Lowell Lee Scott Visual Arts Center in the barn in Rabbit Hash. All are invited.
​Cincinnati visual artist, muralist and poet, Ricci Michaels will be a guest of the Rabbit Hash Historical Society, ushering in Rabbit Hash's very first multi-cultural event. Although RH has featured many local artists at the annual Old Timers Art Show, this one-woman show is another first in the longstanding river town.
Bobbi Layne-Kayser, President and Administrator for the Rabbit Hash Historical Society spoke excitedly about this upcoming multi-faceted month-long exhibition. "Not only am I pleased to bring such a unique artistic style to a town that is far off the beaten path, but I'm happy to host an event that will bring people to town who might not ordinarily have a reason to visit."
Significant to the creation of this artwork is the fact that while the award winning artist, Ricci Michaels is a proud disabled Navy veteran who served her country for 6 years, she is also legally blind. Michaels states that her impairment allows her to be "a voice within the disability community."
She goes on to say, "I find that I have actually become more observant of the people and the world around me. This observation transfers to my art as a depiction of the power of transformation in the human experience. As a result, all of my commentary, my vast imagination and the capacity to bear my soul has redeeming value for me. It fuels my passion and advocacy for others who live with a disability."
Michaels work has been shown in such prominent galleries as the University of Cincinnati Law Library, Art Beyond Boundaries Gallery, the Cincinnati Art Museum and the Cincinnati Freedom Center. Ricci is the President of the ​Urban Expression 101 Project,​ a community outreach program that promotes healing thru the arts with a focus on women, veterans and those coping with the effects of PTSD. Her statement of purpose is " I believe self-expression is vital to the human spirit" and she works continually to provide a platform that will inspire and enhance the quality of that expression.
The show will run from Sunday, June 17 – Sunday, July 8. After June 17 the gallery will be opened by appointment. Call (859) 468-5366.