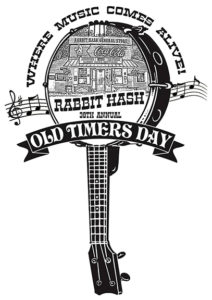 Saturday, September 2nd, 2017 is the 38th Annual music festival in Rabbit Hash celebrating the long standing rivertown community that has thrived on the banks of the Ohio since 1831. Our annual festival features local bands, food vendors, artists, and general merrymaking. The festival runs from 10 a.m to 10 p.m.
This is a special year for the Old Timers Day festival because it rejoices the return of the iconic Rabbit Hash General Store after a devastating fire that happened a year ago in 2016.
The music lineup this year is fantastic as always – and it is listed below. As usual, coolers are not welcome, but kids, dogs, and carpooling are highly suggested!