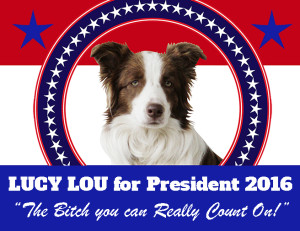 On September 5th of this year, 2015, our esteemed mayor, the honorable Lucy Lou, stunned the nation (well, maybe not the nation, but certainly the attendees of Old Timers Day) with the epic announcement that she will be instituting term limits in Rabbit Hash and retiring as mayor in order to run for the office of the President of The United Stated Of America! She feels that her 7 years in office have given her fresh ideas for a new approach to government. Lucy has stated, "If you don't have a dog in this race, consider me. I am truly the bitch you can count on!"
LUCY LOU ON THE ISSUES
 •  Smaller Government. It sure works in Rabbit Hash!
•  Term Limits. In Rabbit Hash and in Congress.
•  Strict limits on campaign donations. Equal kibble for all candidates! All those billions really could go to better causes than
caustic tv commercials.
•  Equal marriage rights for all, within the species. Everyone should have the right to divorce whomever they choose!
•  Less gun regulation on hunting weapons and small arms, more on assault type rifles. The deer around here tell me if you're a
good shot, you really don't need all that fire power.
•  Speaking of gun regulation, can we spend a little more on mental health care?
•  Taxes and overspending. Quit taxing everyone and everything to death. That goes for everyone. We don't even HAVE Rabbit
Hash taxes. Everyone down here takes care of themselves and their own.
DONATE
To donate to Lucy Lou's campaign, simply click on the donate button on any page on this website, it looks like this:
To get involved, like her Facebook page at Mayor Lucy Lou, friend her personal page on Facebook at Lucy Lou, follow her on Twitter at twitter.com/MayorLucyLou and SPREAD THE WORD!
MEDIA
Lucy Lou on Fox 19 morning news
IN DEPTH INTERVIEW
This is the full, in depth Q & A with Arin Greenwood, the Animal Welfare Editor at The Huffington Post:
Can you tell me about yourselves: who are you, where do you live, who do you live with (human and animal)? What do you and your family do for work, what do you do for fun?
  I am Lucy Lou, a purebred red and white border collie who was born in Lexington KY on February 1st, 2007. I am the great-granddaughter of The Wizard Of OZ, who won Best Of Breed at Westminster in 1998, one of the first years border collies were allowed to compete. He went on to become a Purina Dog Chow model.
  When I was 7 weeks old I was brought to Rabbit Hash KY (an unincorporated village in Boone County that covers 3 acres, has 7 buildings and boasts 1/2 resident (he winters in Florida), to meet my forever family. Rabbit Hash may be small, but anyone who lives within a 10 mile radius claims it as home. Every Sunday during the cold months, the Rabbit Hash General Store hosts live music behind the old wood stove, and that was one of those Sundays. It was a beautiful spring like day and had attracted quite the crowd. Even the former mayor, Junior Cochran, was there! I was introduced to my new handlers, Bobbi Kayser, a graphic artist who had lived in Rabbit Hash for 5 years, and David Rhodes Brown, a 6 and a half foot tall cowboy, who also happens to be a regionally famous musician.
  They took me to their property a mile away as the crow flies, and this is where my official residence is today. It is a beautiful 5 acre valley surrounded by creeks on 3 sides and backed by a hill that rises to our only neighbor's property. We currently live there with my human brother, Ivan, my uncle, Diamond Boy (a black and white border collie who is 3 years younger than me), a cat named Mr. Fritz and 5 chickens, Bossy, Nellie, Marylin, Queen Latifa and Opra. I also maintain the Mayoral office in the back of the barn in the town proper.
  Bobbi and David own a small roofing company, as it is necessary to pay the bills, but Bobbi's true passions are graphic arts and Rabbit Hash. She is the secretary of The Rabbit Hash Historical Society, who own and are tasked with the maintenance and preservation of the 184 year old hamlet that is a living piece of history on the banks of the Ohio River. David celebrated his 50th year in the music industry last year. His band, The Warsaw Falcons, was one of the most popular Cincinnati area bands for a 20 year stretch and are enjoying a resurgence in popularity right now. He's been busy with numerous bands and projects in many different genres over the years, and enjoys being a benefactor to up and coming area musicians, although he likes to keep that private. We like to garden, play music, and get involved in our community.
Diamond's job is to be Daddy's truck buddy when he's in the roofing world field. He also protects the yard from coyotes at night. He taught himself their language and howls at them to stay away. The chickens provide eggs and entertainment, and the cat is pretty much a freeloading slacker, as most cats are.
Of course, my job for the last 7 years has been Mayor of Rabbit Hash KY. My duties include welcoming visitors and giving guided tours of the town, raising health awareness among visitors and regulars with my stick fetching "Get Active" initiative, negotiating disputes between cats, dogs, cats and dogs and the occasional humans, keeping the town clean by making sure no bones are left lying around by the customers of the barbecue restaurant, monitoring the erosion of the riverbank with daily observational swims, advising my human on matters regarding the Rabbit Hash Historical Society, fundraising events for our town and various other charities, acting as good-will ambassador, running a booth for photo ops at our annual Old Timers Day festival and being available for radio, print, internet and television interviews among other things.
What made you decide to run for mayor of Rabbit Hash?
  As I said, the very first day I arrived in Rabbit Hash, Mayor Junior Cochran was in attendance. Mayor Junior was a black lab (and our first black mayor, I might add). I was impressed by his regal stature and knowing countenance. When I found out that he was a mayor of a human town I was astounded! A DOG can be Mayor? I think my political aspirations began on that very day.
I started gathering information on how a dog can become mayor. I found out that the only qualifications in Rabbit Hash are that all bi, tri and quadrupeds who can chase a rabbit from their home to the town proper within one hours time are eligible and that ducks and geese are excluded. (Only the Ohio River separates us from Rising Sun Indiana). Surely I was more qualified than just that! I also found out that there are no term limits in Rabbit Hash and that once elected, you are mayor for life. Our first canine mayor, Goofy, had to be put down after 3 years in office due to testicular cancer (we thought we'd start a worldwide trend of euthanizing public officials and are still amazed THAT did't happen). Junior was an older dog at the time, almost 12 years old and as much as I respected him, I knew he wouldn't hold office much longer.
It was around that time that I realized that every time I greeted a car to welcome visitors to town they would say, "I think she wants us to follow her"!  And they did, so I got into the habit of giving guided tours of Rabbit Hash several times every day. That is when I knew I really was a leader… not just among the animal population, but humans as well.
Sadly, Mayor Junior succumbed to old age in the spring of '08. Since the town would observe a proper period of mourning before announcing our next mayoral election, I talked my people into preparing for the announcement. When the announcement was made on Old Timers Day in August of that year I was ready with campaign buttons and posters featuring the slogan, "The Bitch You Can Count On".
What are your proudest accomplishments as mayor?
•  Breaking the glass ceiling by becoming Rabbit Hash's first female mayor
•  Explaining the election process to Bill Geist of CBS Sunday Morning
•  Serving as SpokesPet for a women's crisis center's pet protection program
•  Cutting the ribbon at the grand opening ceremony for Rabbit Hash's new 4 hole
outhouse
•  Appearing as grand marshal for several local pet parades
•  Accepting a $1000 stimulus check from Reader's Digest "We Hear You
America" Tour
•  Riding on the Rabbit Hash float during the Bockfest and the Cincinnati Reds
Opening Day parades
•  Placing 3 years in a row in the Best Elected Official category in CityBeat
Magazine's Best Of Cincinnati issue (winning 1st place in 2013)
•  Appeared in a segment of "The List", a national Emmy award winning show
•  Starred in a segment of a Japanese pet show
•  Greeted guests at the 10 year anniversary release of the remastered movie,
"Rabbit Hash, The Center Of The Universe" at the Madison Theater
•  Initiating term limits on office in Rabbit Hash
When did you decide to get involved with the race for US president?
 I started toying with the idea around the time the television news outlets started speculating on and announcing possible candidates for 2016. I approached the RHHS with the idea about 4 or 5 months ago. They pointed out that I can't remain mayor of Rabbit Hash and be President of The United States at the same time. That was when I broached the formerly taboo subject of imposing term limits in our town. Naturally they were surprised. I mean, you just never hear of legislators offering up their own jobs for the good of the people! I convinced them that since we depend solely on fundraising and donations for survival as a town and since our mayoral elections generate the biggest funds, it only makes sense to have them more often. Besides, I believe I've reached my maximum potential as a public official in a small community. Its time to take the Rabbit Hash way to our great nation. After all, it works very well here. Why else would people call it The Center Of The Universe? Besides, all the other presidential candidates are dogs… why shouldn't a real one run?
What are your key issues?
•  Smaller Government. It sure works in Rabbit Hash!
•  Term Limits (see above).
•  Strict limits on campaign donations. Equal kibble for all candidates! All those billions really
could go to better causes than caustic tv commercials.
•  Equal marriage rights for all. Everyone should have the right to divorce whomever they
choose!
•  Less gun regulation on hunting weapons and small arms, more on assault type rifles. The
deer around here tell me if you're a good shot, you really don't need all that fire power.
•  Speaking of gun regulation, can we spend a little more on mental health care?
•  Taxes and overspending. Quit taxing everyone and everything to death. That goes for
everyone.
What would be different or better in this country, if you were president?
  I'd really like to say that by the end of my first term America will become a Utopia for all, but I'm not going to lie. I'm a border collie. I'm incapable of lying! We won't have an Animal Farm type of government. I never listen to pigs. I will reduce the size of government, the reach of government and the unauthorized spending of government. To do that I'd use Rabbit Hash, where citizens make responsible decisions, as a governmental model. It isn't perfect, but it is a proven fact that when you come to our town your blood pressure drops by at least 10 points. Wouldn't that be nice for the entire nation?
Do you think being mayor has prepared you for the biggest political race in the country?
  Absolutely! I've never met a constituent who didn't love me. I can work a crowd like my relatives can work sheep. I've posed for pictures so many times it's like breathing. I can fund-raise like nobody's business and can bark up any tree I have a mind to. Isn't that what all the other candidates do?
What distinguishes you from the other animals running for president? How about the humans?
  First of all, I am a dog. I'm hard working, loyal, obedient and loving. I have never met a cat, and only a few humans who possess all those qualities.  Is there even such a thing as a working cat? Unlike Bitches the Cat, I keep my mouth clean (well, I lick my butt sometimes, but I don't use foul language), don't imbibe in catnip or other mood altering substances, and have not been blocked from Donald Trump's Twitter account. I'm different from Limberbutt McNubbins in that I don't follow a single party's script. Limberbutt is an avowed democrat with a narrow vision. I will be running on the newly formed grassroots Indepawdent Party ticket, meaning I'm open to all points of view.
  As a dog I wake up every single day of my life with one single thought and purpose in life: "What can I do for my humans today"? How many humans do you know with that quality?
Have you been fully vetted? By a veterinarian and by the voters, I mean? Any skeletons in the closet?
  Yes. In the spirit of full disclosure, my vet has to treat me for occasional fleas and has put me on a regimen of diet kibble and a glucosamine supplement for my older joints. There are no skeletons in my closet. A few bones maybe, but no skeletons.
Most dogs sleep 18 hours a day, minimum. Could you handle a president's schedule?
  I will admit to having napped on the job in the past. I think I said that in an interview once, so I have to admit to it. But come on… I'm a BORDER COLLIE. We are addicted to work. Pick up any dog breed article and it will tell you, "Border collies must have a job. If you fail to give them a job, they will create their own, sometimes with undesirable results".  Border collies have been known to DIE because they don't know when to QUIT working. So, yeah. I'm pretty sure I can handle a president's schedule. Besides, I don't golf.
You've lived your whole life in Rabbit Hash. Are you ready to move to Washington?
  No, I will not be moving to Washington. It is my opinion that half the taxpayer's dollars go to the maintenance, upkeep and staffing of that big white mausoleum in DC. I would like to privatize that building and utilize it as a national animal hospital and park. My humans are in the process of building our own white house right here in Rabbit Hash, and are willing to accept the responsibilities of running it themselves. We will also have a mid 1800's log cabin and a very nice outhouse on the property that dignitaries can use when they are visiting.
Are you looking for donations? What will you do with the money? Will those who contribute get to come hang out with you at the White House when you win?
  Have you ever met a candidate who WASN'T looking for donations? Yes, yes, yes, I want donations!
I'm not completely altruistic in my bid for the presidential candidacy. I do have a personal agenda as well. Rabbit Hash is in need of funds!  There are serious and costly issues that need to be addressed, and the Historical Society needs money to keep this town as it has been for the last 184 years. My donations will go directly to the Rabbit Hash Historical Society (a completely volunteer non profit) for the preservation of a true gem of America.
  Contributors will definitely be invited to the new white house. Or at the very least, to my office in Rabbit Hash.
Are you concerned at all that your age, and species, disqualifies you from holding the office?
  Not at all. I'm only about 59 in people years. Ronald Reagan was 69 when he was first elected, and 73 when elected for a second term. I'm a mere pup compared to him! My species could be a problem but I won't let that deter me. There's always the write in vote!
What will you do with yourself if you don't win?
  I will continue to support Rabbit Hash and our new mayor in any way I can. And there's always my guided tours!
Anything else you'd like my readers to know?
A lot of people want to know exactly how a dog becomes mayor of a town. I tell them all the same thing: We bought that election fair and square! See, we know, just like everyone else in the world, that whoever has the most money in any given election is the candidate who will win. Its just that in Kentucky, particularly Rabbit Hash, we're honest about it. We charge you $1 a vote, allow you to vote as many times as you want (even if you're dead), and encourage drinking at the polls because people tend to get looser with their wallets when the shine is flowing! We do not limit voting to just one jurisdiction. Thanks to the wonders of modern technology and PayPal, we can accept votes from all over the world.
Our last election consisted of 10 dogs, a cat, an opossum and a jack ass and around $22,000 in votes were cast. I'm proud to say that every single one of those votes were donated to The Rabbit Hash Historical Society who actually use the funds to maintain and preserve the community we live in. This could solve the national debt if instituted on a presidential campaign level.
(disclaimer)
Mayor Lucy Lou isn't REALLY running for POTUS. This is a fundraising attempt for the Rabbit Hash Historical Society. By donating to her campaign you are donating much needed funds to the RHHS for the preservation and maintenance of our 184 year old all wood historic town. Everything else on this page is COMPLETELY true!